{Melissa at
Growing Up Geeky
was so kind as to let me co-host Toddle Along Tuesday with her this week! Thanks, Melissa! :-)}
Since E's birthday is barely a month before Christmas, S and I have been racking our brains on what we should get her for Christmas... and what we think we can hold back from giving her on her birthday here in a few weeks!
I've been shopping on Amazon for months now for fun toys I think she will enjoy, and we've come up with our must-haves for E's Christmas wish list:
Wooden Blocks
S and I both love that these Haba blocks are sturdy, non-toxic wooden blocks that will be not only a blast for E to play with, but will also be safe when she inevitably puts them in her mouth.
Melissa & Doug Wooden Food
E has a few Melissa & Doug toys already and she LOVES them. I love them too, because not only do I love wooden toys, but I also think they are so creative and really encourage imaginative play. I had a play kitchen and toy food that I loved to play with when I was younger, and I hope E will enjoy it also. Which brings me to...
Play Kitchen
This just looks awesome. Need I say more?
Play Tent
E's babysitter's daughter has a play tent that they set up occasionally, and E LOVES it. I would love for her to have her own at home! Also, how adorable is this tent that looks like a little house?!
Have you started planning your little one's holiday wish list yet?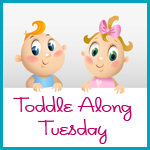 This week's Toddle Along Tuesday topic is holiday wish lists for your little ones! What is on his/her wish list this year? There are no rules here, except that you link up a relevant post (old or new) rather than your whole blog.